Frameless v. Traditional Cabinetry: What and Why?
Back To Blog
Frameless v. Traditional Cabinetry: What and Why?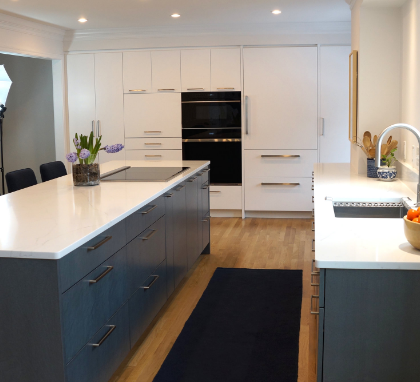 So you're in the process of designing your dream home and have just begun the task of picking out your cabinets. You knew that you would have to choose things like color, size, and hardware. However, after a quick Google search, you realized you have a more important choice to make: American face frame cabinets, or euro (European) style cabinets. But what is the difference, and why is one better than the other? We put together this post to give you the ins and outs of euro style cabinets and everything you need to know about why they're the best choice for your home.
What Are Euro Style Cabinets?
Euro style cabinets aren't just a pretty design trend, but instead are cabinets with a more functional and spacious build. These cabinets have no front frame and no divider, which gives you more usable space to work with, clean lines and minimal gaps between cabinets.
With frameless or full access cabinets, thicker sides (boxes) keep the cabinet more stable while avoiding the use of the front frame found in face-frame cabinets. Frameless cabinets are edge-banded to finish the front faces of the box. By eliminating the front frame, there is more room to place large objects inside and more usable space.
History of Frameless Cabinets
A common construction method for frameless cabinets originated in Europe after World War II and is known as the 32-mm system or European system. The name comes from the 32-millimeter spacing between the system holes used for construction and installation of hardware typically used for doors, drawers and shelves. As a result of WWII, a large number of houses were destroyed and needed to be rebuilt which lead to a shortage in lumber. Like many innovations throughout history, European Style Cabinets were born out of necessity. In North America, frameless cabinets are often referred to as "European Cabinetry".
Best Rooms for Euro Style Cabinets
The most common rooms that we install euro style cabinets in are kitchens and bathrooms, however, there are really no limits as homeowners also use frameless cabinetry in offices, laundry rooms and even furniture like tables and desks! Our go-to cabinet manufacturer for kitchens and baths is AyA.